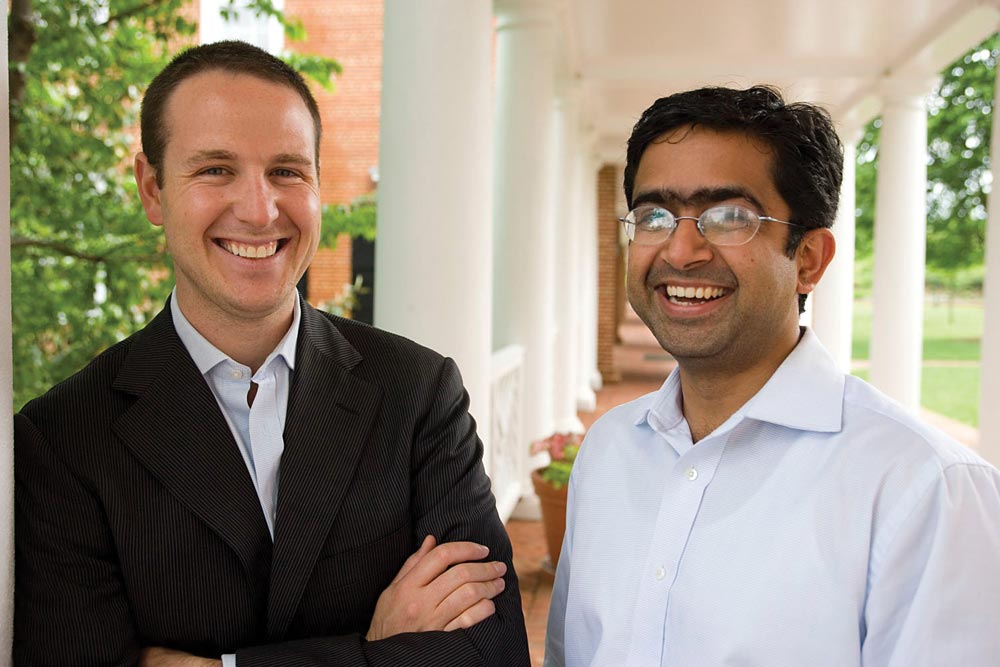 In villages throughout India, huge piles of rice husks—a byproduct of rice milling—sit slowly rotting. Proving the old adage that one man's trash is another's treasure, two Darden students have started a business that uses these discarded but plentiful rice husks as fuel for two generators that are providing power to about 10,000 rural Indians.
The students, Charles "Chip" Ransler (Col '01, GSBA '09) and Manoj Sinha (GSBA '09), plan to expand their business, Husk Power, installing their miniature power plants in hundreds of villages throughout India.
There is no shortage of need for this innovative power source: 480 million Indians are without power and 350 million of them live in rural villages, concentrated in eastern India's "Rice Belt," where the villagers are "rice rich and power poor," says Ransler.
Their carbon-neutral technology gasifies rice husks to generate electricity, and the resulting waste ash can be sold as an ingredient for cement. Ransler estimates that each rice husk generator will break even in about two and a half years, and will reduce carbon dioxide emissions by 200 tons per year, per village.
The idea for the rice husk generators was conceived by Sinha, who has an engineering degree from the University of Massachusetts, and Gyanesh Pandey, Husk Power's third partner, who is currently in India to oversee the rice husk project.
Sinha and Pandey attended college together in India and both grew up in rural Indian villages that struggle with a lack of electricity. "Our relatives still do not have electricity," says Sinha. "We wanted to give back to those areas."
Their plan has gotten accolades from the University and elsewhere. After winning Darden's annual business plan competition, Ransler and Sinha won the Social Innovation Competition at the University of Texas, placed second in MIT's Ignite Clean Energy competition, and placed in the top 10 among 245 entries from 23 countries in the Global Social Venture Competition hosted by the University of California at Berkeley.