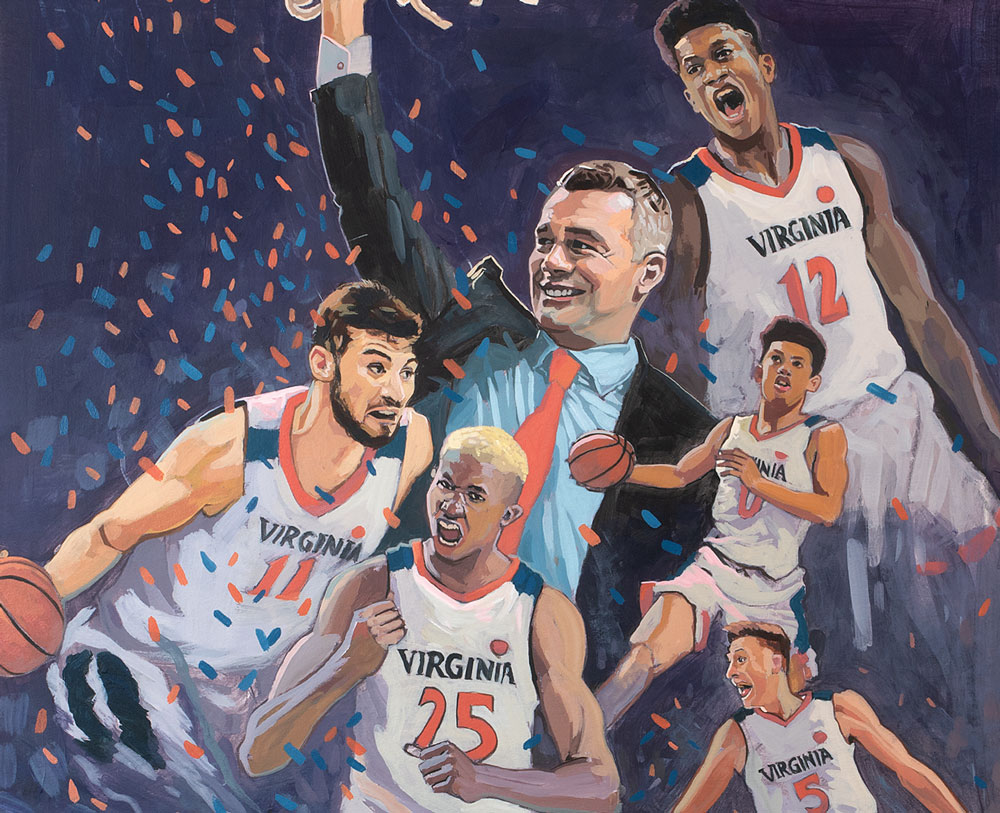 The horn blared, the game ended and the deadline screamed. I would have to file a coherent story on a dramatic final within 15 minutes, so the gut roiled and the nerves rioted. Yet at roughly 11 p.m. Central Daylight Time, Monday, April 8, 2019, beside a basketball court retrofitted in a Minneapolis football stadium, I took 30 seconds just to stare.
I stared out as hard as I knew how to stare. I stared in the hope that if you stare at something long enough, you actually might begin to comprehend it. Confetti rained as it does on every closing Monday of the NCAA Men's Basketball Tournament, and the victors' bench stormed the floor for a heaving team hug just like always, but this time it all backlit something strange.
The new national champions appeared to wear jerseys that said "VIRGINIA."
Clearly this could take a slog to process, even for a sportswriter who spent the last 33 years honing objectivity, a 'Hoo who's allowed all fandom to exit his bloodstream, learning that once-loathed UVA rivals actually are not satanic, hearing in press box after press box the standard pregame announcement prohibiting cheering.
Still, was that really Virginia out there in the last, best scrum? Had Virginia just weathered four daunting, exacting, closing games? Had Virginia revisited an old goblin against Gardner-Webb in the first round, but forged on through? Had it fumbled an 8-point halftime lead against Oregon, an 8-point second-half lead against Purdue, a 10-point second-half lead against Auburn and a 10-point second-half lead against Texas Tech, but aced the hard art of self-reconstruction again and again and again and again?
Had Virginia really withstood a Purdue whose Carsen Edwards amassed 42 astonishing points? An Auburn that had vanquished North Carolina and Kentucky, a Texas Tech so bloody good it had bested both the big Michigans plus the fantastic Gonzaga? Had Virginia, of all teams, climbed the otherworldly path of trailing inside 15 seconds of its final three games, yet managing to lose none?
Had it done so beginning in March, when its central nervous system annually buckles?
In March 2014, the beloved Coach Tony Bennett's No. 1-seeded Virginia shot a grim 35.1 percent as Michigan State ousted it 61-59 in the Sweet 16. In March 2015, No. 2-seeded Virginia shot 29.8 percent, 2-for-17 from 3-point suburbia, as Michigan State ousted it 60-54 in the second round. In March 2016, No. 1-seeded Virginia squandered—no, hemorrhaged—a 54-39 lead with 9:33 left as Syracuse ousted it 68-62 in a brink-of-Final Four nightmare. In March 2017, No. 5-seeded Virginia shot 29.6 percent, 1-for-15 from afar, in a ghastly dud of a 65-39 loss to Florida, unsuitable for children and adults.
Then, on a freaky Friday night in March 2018, No. 1-seeded Virginia somehow out-deflated all those deflations combined, an anti-feat distillable to three words and one hyphen: Maryland-Baltimore County.
Well, apparently on March 28, 2019, No. 1-seeded Virginia trailed Oregon 45-42 with 5:21 left and looked familiarly doomed until 3-point shots from the delightful squirt of a freshman, Kihei Clark, and the junior mainstay Ty Jerome.
Apparently on March 30, 2019, Virginia fashioned one of the most creative plays even in the kaleidoscopic 81-year history of the NCAA Tournament. Video evidence indicates it began with 5.9 seconds left against Purdue. Mamadi Diakite tipped out an offensive rebound, Clark chased it frantically back across midcourt and used his imagination and his who-knew upper arm to ship a 40-foot pass to Diakite, and Diakite loosed a game-tying shot with a merry little arc. Further, it seems that Virginia showed a knack for following the grotesque with the sparkling when star De'Andre Hunter followed a thud of a turnover with a bold move and a go-ahead layup with 28 seconds left in overtime.
Apparently seven evenings later—and this, too, borders on farce—the tournament seems to have sent Kyle Guy, barely of legal drinking age, to the free-throw line with six-tenths of a second left with a 2-point deficit and 72,700 Final Four witnesses. What kind of lunatic nation puts a college junior through this? Swish. What is wrong with us as a people? Swish. What a lousy thing to do to a 21-year-old.
Swish.
Now watch—and watch, and watch—this ending. Watch Jerome cruise up the court in the merciless last 20 seconds of regulation in the final, Virginia trailing Texas Tech 68-65. Watch him zoom toward the basket, and wonder again just what the hell he might be doing. Watch his inconceivable calm as he zips the ball way over to an unguarded Hunter in the right corner.
Watch as Hunter fields the ball and seems to spend an eon aiming. Wonder again whether he overthinks. See that shot splash down to tie the game. Continue into overtime when, close to the same spot, he tries an audacious 3-point shot amid ample defense, and it, too, splashes down for a lead he and his mates then carry into forever.
They gave plenty to many, beyond even the multitudinous goose bumps. They cached their own memory banks with moments of uncommon light. They gave their coach the occasion to finish a season sitting upon his courtside stool in brief disbelief. And they gave the fans who had followed them across the rocks of previous Marches the chance to contemplate for the rest of their days the whole Clark-to-Diakite of it, the whole Guy and Guy and Guy of it, the whole Jerome-to-Hunter of it, until someday the whole thing might even seem real.