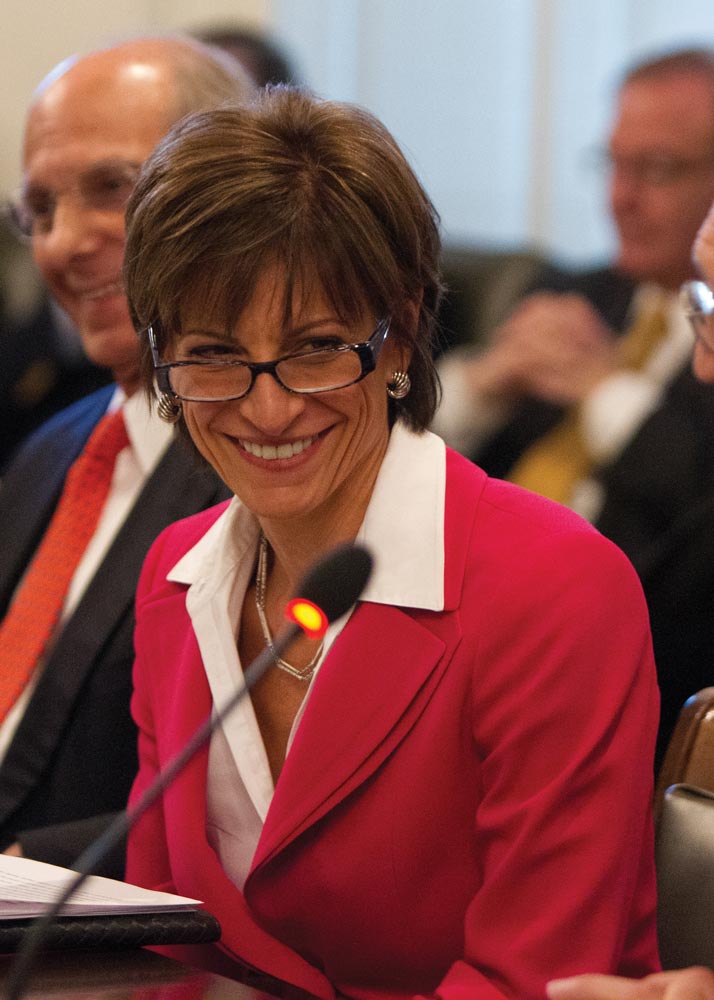 Q: Why has the Board of Visitors not been more open about its reasoning and decision to request the resignation of the president, and how will the Board of Visitors move forward?
A: The Board of Visitors, like all of you, cares deeply about the future of UVA. For me, UVA has been an incredibly important institution. It afforded me one of the nation's best undergraduate and graduate educational experiences. Its impact—educationally, socially and economically—is enormous here and around the world. I've been a devoted supporter and fan, and I always will be. This is not a sentiment unique to me. UVA alumni everywhere share this view. The University community is truly our greatest asset and deserves our unfailing commitment to excellence in all circumstances.
The great challenge in explaining recent events lies in balancing complete openness—our sincere preference—with the reality that state law, University policies and a contractual nondisparagement agreement requested by the president clearly have precluded us from sharing specific personnel information. The Board's restraint in this regard speaks to its integrity and its desire to move forward with the president in a spirit of cooperation.
Let me assure you, though, that all of our energies have been focused on the University. It, like many of America's best public universities, stands at an important crossroads. Traditional funding sources are uncertain; our families cannot continue to absorb large tuition increases to compensate. The global environment is changing extremely rapidly. Major changes are transforming educational delivery systems and the way students want to learn. Academic quality faces challenges as faculty recruitment, retention and workload issues become even more complex in a world of fewer financial resources.
The University is an enterprise of more than $2.5 billion—we cannot ignore the bottom line. That does not make the University "just another business," but it does mean that the University's success will depend on comprehensive, sound and farsighted planning as well as timely, effective execution of its strategies. Many universities have already developed new approaches to the shifting landscape. We cannot afford to be reactive.
President Sullivan was unanimously reinstated by the Board of Visitors. Revisiting the past is productive only in the context of deciding how, together, we will address the three overarching issues of funding, change and academic quality. What truly matters now is moving forward and doing so collaboratively, constructively and with a shared sense of mission. The Board is clearly preparing itself for this important work. We have five new members who will contribute highly valued expertise. We are creating special committees for strategic planning, governance and engagement to ensure the UVA of tomorrow is an even stronger, more successful teaching and research leader.
In the wake of the recent leadership crisis, criticisms have been raised about a lack of communication between the Board and President Sullivan. Are those fair criticisms?
Again, not everything that transpired can be shared. I assure you that there is a history and practice of substantial and frequent communication with the president on dozens of occasions. For instance, the vice rector and I participated in regularly scheduled telephone calls or meetings with the president, approximately every other week. Between those times, the president kept us informed of important events or issues as they arose. We consistently explored matters of highest importance that were aligned with the president's agreed-upon goals and objectives, and feedback and advice were provided. In fact, two issues that routinely topped our agenda were strategic planning and implementation of those plans for the Academic Division and the Medical Center. We also reviewed financial, research and legislative matters and discussed myriad separate topics. Board members attended events and shared ideas with the president in Charlottesville and elsewhere. I say all this to provide context. Communication can always be improved and the Board is committed to an ongoing and productive dialogue.
Are there other lingering questions you can put to rest?
Yes, and I appreciate this opportunity to do so. First among them is that while the Board understands that technology has the potential to radically change the economics and outcomes of academic service delivery, we did not promote for-profit learning or engagement in massive open online course delivery. Thoughtfully assessing and planning for the potential disruptions and opportunities that technology presents is the role of the administration.
Second, the Board has always respected the role of academic leadership in setting direction for what courses are offered to provide a superlative academic experience. We did not seek any specific cuts in programs and we highly value the liberal arts, the sciences and professional programs.
Third, the Board cares deeply about faculty and students. In fact, part of our sense of urgency stemmed from expressed concerns over declining faculty compensation relative to our peer AAU institutions. We want to support our educators and researchers, who are integral to quality and to our future.
Fourth, the Board responds to UVA as a whole, not to any one person or even a group of individuals. We believe in the power of collective ideas and talent and hope to ensure that UVA realizes the benefits of these assets for years to come.
Concerns about the University's status, particularly as it relates to national rankings, have surfaced frequently in recent months. What are your thoughts about the importance of rankings?
It's fair to say that the Board is focused on authentic excellence, best measured by assessing the real learning achievements of our students. Rankings are imprecise and many have raised questions about how they are determined. However, trends in rankings may matter to students, potential funders and partners. For example, in 2000, U.S. News & World Report placed UVA first among public institutions. Last year, we were in a three-way tie for second. A slight improvement by our closest competitors could land us at No. 4. In 2000, we held the No. 20 spot among all institutions, public and private. Last year, we were in a three-way tie for No. 25 with UCLA and Wake Forest. We hope that all future ranking trends will be favorable to UVA, but a slight improvement by our competitors could land us at No. 27, without any improvement from those ranked lower.
In early August, although we cheered when Forbes magazine placed UVA as the No. 1 public institution in the nation, the magazine slotted us at No. 36 among public and private institutions, far below the No. 25 U.S. News ranking. Forbes' methodology does not include reputational measures, which are weighted heavily by U.S. News. The prestige of the University's unique student experience helps us achieve higher rankings than our metrics alone suggest. The Board is committed to ensuring the continued vitality of this experience and of real results as enrollment grows.
Some assessments merit serious attention—for instance, the recently reported Consumer Reports patient safety rating of the Medical Center. Likewise, U.S. News & World Report recently published a report that documented only one nationally ranked medical specialty at UVA—down from 10 in 2002. Further, the one ranked specialty itself fell by more than 30 spots this year alone—from No. 13 to No. 44. A recent Daily Progress letter to the editor lamented the University's administrative decision not to seek redesignation of magnet nursing status (the highest credential for nursing quality). These types of evaluations do attract Board focus and they should. We seek only the highest caliber and safest care for our patients.
What would you most like the public to know about the Board at UVA, and how is it looking to the future?
I'd like them to know that the Board remains entirely committed to this wonderful institution. I want them to know that the Board of Visitors understands its responsibility to safeguard the University and all that it represents, not only for the students of today but for coming generations of students as well. That means we must be informed and astute in recognizing trends, both positive and negative, and addressing both challenges and opportunities.
To that end, we have a newly appointed Special Committee on Strategic Planning that has already begun its important work in cooperation with President Sullivan. The strategic plan must begin with where we are today in the national as well as global context of higher education. The plan must establish the major goals to which we aspire and provide meaningful benchmarking and metrics by which we will be judged. The plan should be ambitious as befits our stature, and achievable through effective prioritization and dedication of resources. And the plan must reflect the values, traditions and spirit that have been the guiding principles of UVA since its founding nearly two centuries ago.
Challenges abound. They range from state and federal funding to tuition and financial aid; from adapting to new realities in technology-based teaching and learning to understanding the needs and desires of students for whom technology is intrinsic in all aspects of their lives; from having a premier academic medical center to dealing with the realities of local and national competition and a changing health care landscape. All of these challenges, and more, are matters to be thoughtfully addressed by the Board, the president and the University community.
We have reunited behind President Sullivan. Together, the Board and the president will continue to identify and articulate key challenges and have mutually agreed that our strategic planning processes will reflect the great strengths of UVA. We will collectively build on our assets, carefully analyze critical financial, cultural and academic trends, and become an even more fiscally and academically sound university.
Finally, we would like to extend a heartfelt thank you to the many students, faculty, alumni and friends who have reached out to the University. Your thoughtful opinions and analysis have and will continue to help us constructively address the future. I believe we all share the goal of ensuring UVA's continued preeminence, especially in light of the financial, educational and academic evolutions occurring today. It will take our collective commitment to work hand-in-hand for a brighter future, in a spirit of renewal and cooperation, to make our goals reality.