A Life, a Legacy
Honoring Martin Luther King Jr.
Five months before his "I Have a Dream" speech—and five years before his death—the Rev. Dr. Martin Luther King Jr. came to UVA to speak about civil rights.
Wesley Harris (Engr '64), then chairman of the local chapter of the Virginia Council on Human Relations, was one of the students instrumental in bringing King to Charlottesville. For Harris, the visit was life changing.
"To see him up close, to shake his hand, to share a meal with him, just King himself, alone and without an entourage—it was an important event in my life, a cornerstone in my experience," says Harris, now a professor at MIT.
This past January, Harris came to Grounds to participate in an unprecedented local celebration of the life and vision of King. The University community joined with area churches, schools, choirs and other groups to pay homage to the personal activism of King and to examine the history, impact and legacy of the civil rights movement. The events ranged from panels about health care to screenings of documentaries such as Stanley Nelson's Freedom Riders.
Harris joined UVA history professor Paul Gaston for a panel discussion about King's UVA visit in 1963. The highlight of King's appearance was an address in Old Cabell Hall, where he spoke out against people being jailed unjustly and called on victims to "transform the jail from a dungeon of shame to a haven of human dignity."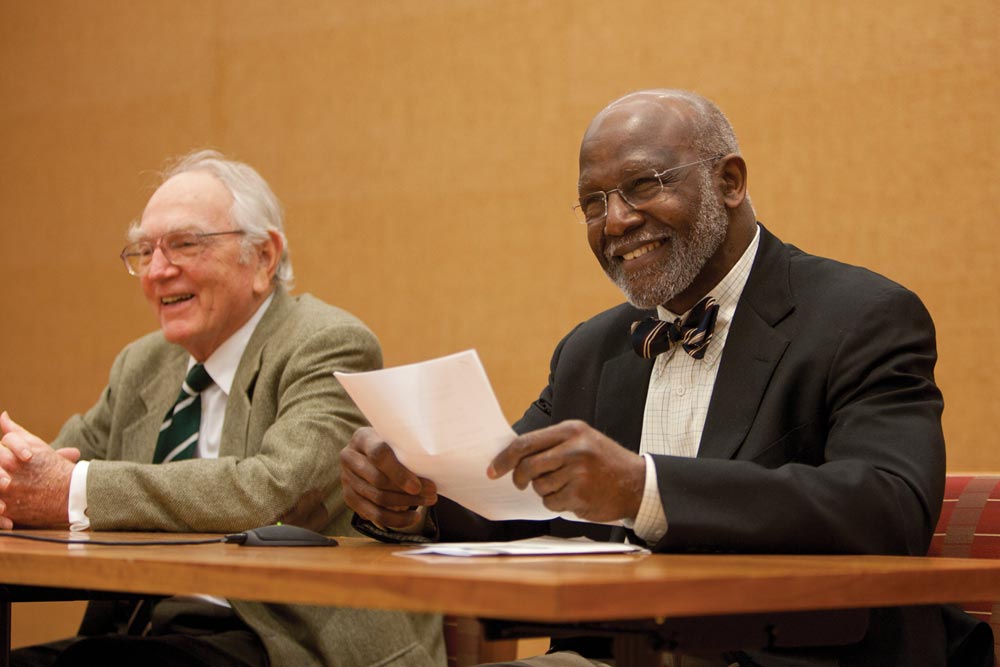 Gaston recalled the power of King's speech. "It was electric. The dynamism that the man suggested was impossible to believe unless you actually saw it."
At another event during this year's celebration, Donna Brazile, a Democratic political strategist, author and adjunct professor at Georgetown University, emphasized the importance of continuing King's work for justice and equality.
"He would be proud of us, but he would still push us, challenge us and press us about working on the unfinished business of making a more perfect union for all citizens," she told a full auditorium.
An experience that Harris recalled during King's visit reflected the tumult of the times. While the two were walking with Gaston and his wife toward a motel on Emmet Street, a loud noise rang out. Gaston assumed, correctly, that it was a car backfiring. But Harris, who grew up in segregated Richmond, moved to shield King by pinning him against a stone wall.
Later in the motel room, the group chuckled about the incident. Gaston recalls King almost joking when he said, referring to the possibility of being shot, "'It's going to happen to me sometime.'"
When King was assassinated in 1968, the Rotunda flag was flown at half-mast and University President Edgar Shannon Jr. led a memorial service in Cabell Hall. Classes were made optional during the service.
In the years after, Brazile became involved in preserving King's legacy when she joined King's wife, Coretta Scott King, in lobbying President Ronald Reagan to make King's birthday a national holiday.
"We must believe that changes to realize the dream of equality are worth fighting for," Brazile said. "We have to believe we can see beyond the barriers to create the beloved community that King described. It is available to all who answer the call to serve."